Rod Stewart, Neil Young + Roger Daltrey LOVE Model Trains
When they aren't creating music, Neil Young, Roger Daltrey and Rod Stewart all unwind in a surprising way—playing with model trains!

It's no secret that performers will sometimes take the form of an alter ego while on stage for an extra boost of confidence, but taking a different name specifically for instances when they play with trains? That's what Neil Young does, or shall we say Clyde Coil. He holds responsibility for Coilpix Pictures, the place where short films are taped inside his model railway. Young even became part owner of the famous toy brand Lionel Trains in the early 90s, aiding in the development of a new remote control and sound technology for the company.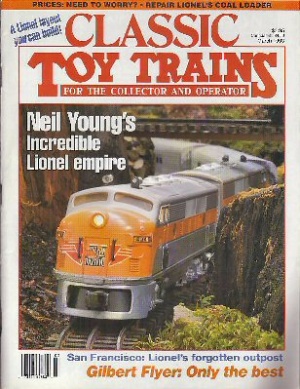 Some famous musicians are lucky enough to grace the covers of magazines, but Rod Stewart really only has his eye on one. "Every three years Model Railroader magazine puts me on their cover, which is better than Rolling Stone," Stewart told The Radio Times.





He's gained prestige in the modeling world with his flawless 1,500 square foot, 1:87 scale model of New York's Grand Central Station circa 1940, all constructed while on the road touring. Stewart also keeps a private model railway set atop his house so he can enjoy his hobby outdoors.

Roger Daltrey, the 70-year-old frontman of The Who, took up the hobby of model trains because he hated "watching the TV because there's nothing on and I like listening to the radio," he said, adding that listening to music on the airwaves is the ideal combination with the woodworking and painting that goes into model trains.

Though Daltrey is still performing and will release an album with Dr Feelgood guitarist Wilko Johnson next week, he isn't letting any of that interfere with his passion for trains. He's currently working to head a project in Ashford, England to transform a run-down railroad site into a state-of-the-art model museum. "Britain forgets that we invented the railway and it conquered the world," Daltrey explains. "The railway was the first thing to open up the world in a big way for trade. We invented it, and we should be proud of that."

Other famous train aficionados include Johnny Cash as he frequently endorsed Lionel Trains in the 70s, along with Frank Sinatra dedicating an entire part of his Californian ranch to model trains. Valued at over $1 million, it still has Sinatra's original layout and collection, but perhaps most importantly: the model still runs like clockwork!

--
Source: Telegraph.co.uk + Express.co.uk