David Crosby Disses Ted Nugent as a "Hack" Who'll Never Make Rock Hall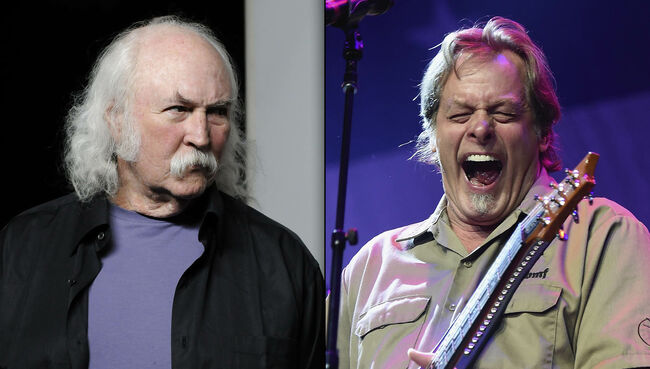 It looks like two of the most beloved artists in American music history are rekindling their feud.
In response to Ted Nugent's recent comment that his exclusion from the Rock and Roll Hall of Fame amounted to "sacrilege," David Crosby tossed his hat into the mix, offering that in his opinion Noog is simply not up to the standard of the Hall of Fame.
Nugent, eligible for the Hall since 2000, blames a liberal conspiracy for his lack of enshrinement. Most recently, the Motor City Madman aimed at the "ultra-leftist, liberal CEO-driven gang who couldn't give a rat's ass about the music" for barring him from the Hall.
Crosby, a two-time Hall of Fame inductee with The Byrds and Crosby, Stills and Nash, reacted to Nugent's take via Twitter with amusement.
"That is really funny stuff," Croz wrote. "...[He's] not good enough and he never will be ... a hack player and no singer at all ... could not write a decent song if his life depended on it."
Nugent has yet to respond to Crosby's diss, but if history is any indication, that won't last long.
Despite their mutual patriotism, the two rock and roll greats have often feuded over their diametrical political views.
Last year, Nugent said of Crosby: "...[He's] done so much substance abuse throughout his life that his logic meter is gone. His reasoning and his depth of understanding is pretty much gone, so it doesn't surprise me, I feed quite sad for the guy."
While Nugent might be the only artist connecting his exclusion from the Rock Hall of Fame to supposed liberal politics of the committee, he's far from the only great rocker to suggest the selection process is broken.
Joe Walsh, a Hall of Famer with the Eagles since 1998, recently said the Hall's selection committee is beholden to corporate sponsors.
Rage Against the Machine guitarist Tom Morello, a 2018 nominee (who falls more onto Crosby's side of the political aisle), says he's been trying to nudge the Hall of Fame towards reform for years.
Then of course, there's Steve Miller, who made the most legendary diatribe against the Hall of Fame the night of his own induction in 2016, promising the organization would "be sorry" once he was through investigating it.
Photo: Getty Images